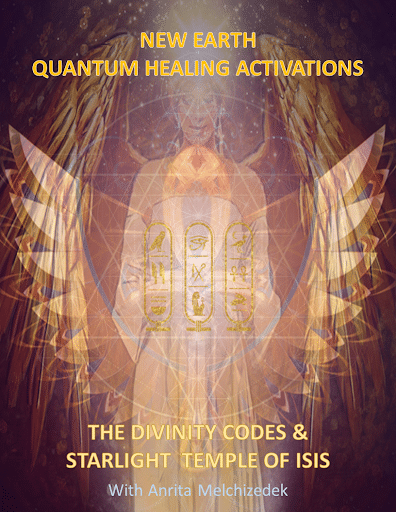 Receive this New Earth Quantum Healing Activation eBook on the Divinity Codes & Starlight Temple of Isis
PLUS
A powerful eighteen-minute audio activation in Mp3 format with background music
EXPERIENCE ONE OF THE NEW EARTH QUANTUM HEALING ACTIVATIONS AND LIGHT ENCODED ENERGETIC TRANSMISSIONS OFFERED BY ANRITA MELCHIZEDEK AS A PATHWAY OF EXPANDING INTO NEW EARTH.
In this New Earth Quantum Healing Activation, you are invited to experience the Starlight Quantum Healing Chamber of Isis and Seat of Isis within the Galactic center.
The Starlight Quantum Healing Chamber of Isis will assist you to clear many of the lower timelines and deepen into Soul embodiment by drawing to you your Higher Selves as you elevate your frequency and expand your consciousness.
CLICK HERE TO RECEIVE THIS BEAUTIFUL GIFT
Receive this New Earth Quantum Healing Activation eBook on the Cosmic Ray of Solar Christ Consciousness
PLUS
A powerful twenty-four minute audio activation in Mp3 format with background music
In this New Earth Quantum Healing Activation, you will experience the Cosmic ray of Solar Christ Consciousness and the Overlighting of the Inner Plane Masters, guiding you ever deeper into Self-Mastery. This is a beautiful Copper-Gold colored ray, that connects with the sacred geometry of the cube, and takes you deeper into the emotional body and feeling realm. This is where all you have suppressed comes up to be released and transcended, and where you experience many of the "Heaven and Hell" archetypal energies. You remain in frequency and consciousness at this fourth dimensional level until you have released and cleared the fields of physical density and karmic timelines within for Soul embodiment to commence. This is also where you deepen your connection to Gaia, your Universe, your Higher Selves, and the many Illumined Beings of Light.
CLICK HERE TO RECEIVE THIS BEAUTIFUL GIFT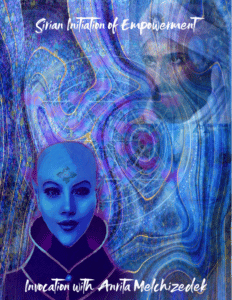 Receive this beautiful gift, a Sirian Initiation of Empowerment Invocation and Workbook. In this beautiful 22-minute Invocation, we align our will ever deeper to the Will and Power of God and with this, stepping into new levels of Divine Service, expressed through the Divine Masculine aspects of Self. Our Divine Masculine Energy is the "DOing" in Service in Love, through our inner power. This is a sixth dimensional aspect of Self beloved hearts, and presents through our Sirian Higher Self aspects, and the Overlighting of the Sirian Archangelic League of the Light and the Inner Plane Ascended Masters and in our dream state, we travel to the Great White Lodge on Sirius to receive this Initiation.
Additionally, you receive a 22-page workbook with this beautiful written invocation plus the opportunity to go deeper into self-reflection.
You are further welcome to join our masterclass on the Sirian Initiation of Empowerment
Archangel Raphael and Mother Mary – Archangels of Healing and Truth
In this beautiful 25 minute transmission you:
Purify your mind and erasing false beliefs
Uncover and undo limiting thoughts, beliefs and views
Experience the flow of universal life-force energy
Experience different breathing techniques
Activate the axiatonal lines through the meridian lines found along the body
Restore the balance of mind, body and Spirit
Sense illness with medical intuition
And experience a beautiful attunement: Healing with an open heart as a sacred transfiguring Flame of Divine Love
PLUS
Thirty Archangel Mini Cards for your personal use
CLICK HERE

Receive a beautiful 24 page full color Arcturian encoded Sacred Geometry Healing workbook
PLUS
The Arcturian Sacred Geometry Healing Templates Mp3
The Arcturian Sacred Geometry Healing Templates
 Energetic Support for the Coronavirus
The Arcturian Emissaries of the Light are higher dimensional Light Beings, advanced healing technicians and master healers, who have gifted
us with many wonderful Spiritual tools and techniques, and now offer to us these beautiful Sacred Geometry Healing Templates to release
all perceived discomfort from within the body
and energy field as well as assist in clearing the
fear matrix and energetic imprintings of the coronavirus.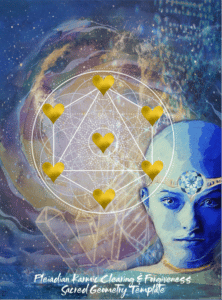 Receive this beautiful free workbook and Mp3 download on the Pleiadian Karmic Clearing and Forgiveness Attunement.
he Pleiadian Karmic Clearing & Forgiveness Attunement assists in releasing old karmic contracts that have created feelings of blame, resentment, and anger as well as victim and persecutor consciousness through forgiveness, insight, understanding and Love.
In these beautiful attunements you work with light encoded Galactic Sacred Geometry Templates and corresponding Galactic Crystal Grid Templates, encoded with Great Central Sun Crystalline frequencies of Mother/Father God – the Heart of All That Is and Overlighted by the Christed ET's, in particular, the Pleiadians, Sirians, Andromedans and Arcturians – all of the Light.
Simply by viewing these templates, you will start to receive the light encoded frequency activations and attunements.