SPECIAL OFFER FROM ANRITA MELCHIZEDEK
12 beautiful Light encoded Transmissions
Beloved heart, we invite you to receive these twelve beautiful New Earth Unity transmissions taking you ever deeper into New Earth.
Each transmission is a light encoded, heart expanding energetic experience, activating the Light Codes from within and taking you into the next level of your Soul's Forward Evolution as the Light of God You Are.
My gift as a Soul Blueprinter is to read the energies, of individuals and Mother Earth. Many of the themes experienced here are part of what we are collectively experiencing to expand our Light work and Soul Missions, clear the fields of density within and without, expand our Consciousness and experience our Highest Potential as we come together as One Heart, One Love and One Unified Field of Light.
These are timeless transmissions, each 90-120 minutes in length, and can be listened to repeatedly to experience the Divinity within.
Enjoy.
Lovingly
Anrita Melchizedek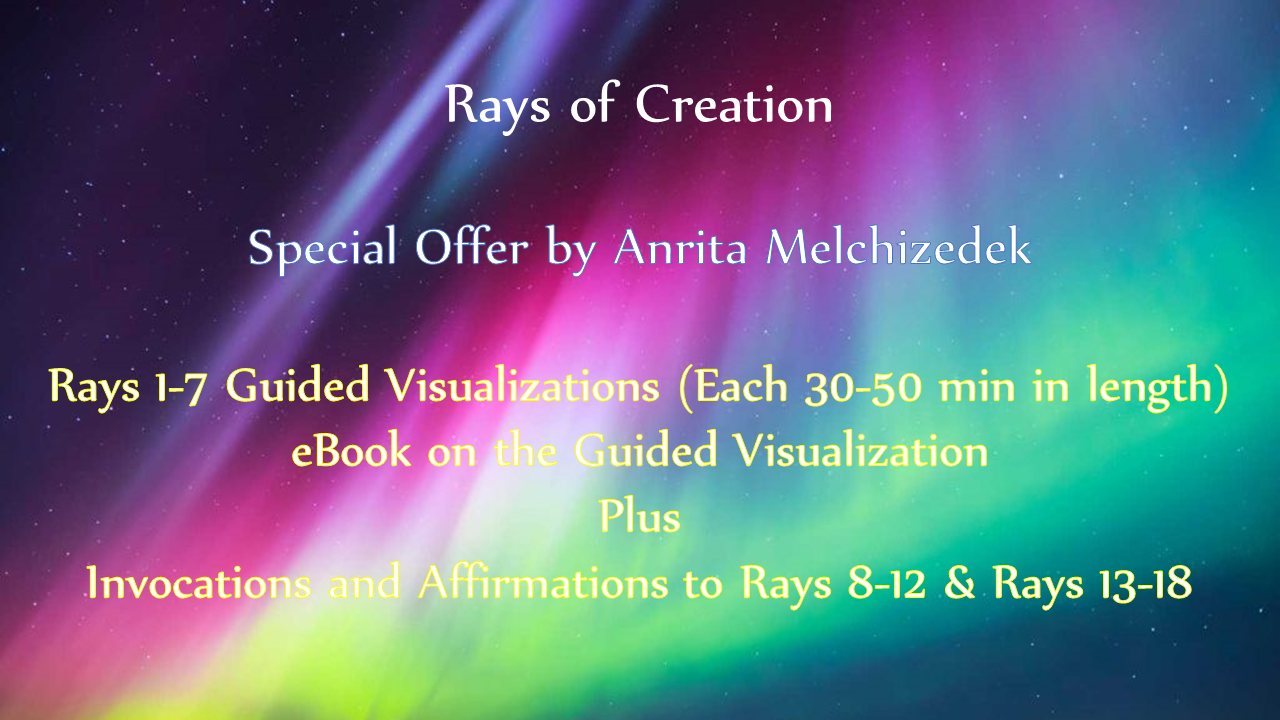 The Seven Divine Rays
By Anrita Melchizedek
Seven Guided Visualizations (Mp3's), each approximately 30-50 minutes in length plus the related eBook
The rays can be described as vibrational frequencies of Divine Unfolding Light emanating from the Cosmic Heart of Mother/Father God. They bring with them particular qualities, colors, and sonic vibrations that are integrated within our various energy bodies and allow us to be conscious of ourselves as these sacred transfiguring Flames of Divine Love. They further assist in the activation of the dormant DNA, and the awakening to our multidimensional memories. As such, the influence of the rays can take us into a deeper understanding of our Light work, as well as giving insight into behavioural patterns we may still be integrating.
Alice Bailey, through her trance channellings with Djwhal Khul, brought through much information on the first seven rays, and in recent years this has been expanded upon by authors and Spiritual facilitators such as Dr. Stone, Brain Grattan, and Janet McClure, to name a few.
Additionally, you will receive a beautiful eBook with these guided visualizations plus three additional Mp3's.
Two on the affirmations and invocations of Rays 8-12 and Rays 13-18 plus a transmission on the Ray Councils.
A beautiful start to the remembrance of the Rays of Creation.
Illuminations with the Archangels
Receive seven beautiful Archangel transmissions, each 25-35 minutes long plus 30 beautiful Archangel Mini Cards.
Each of these beautiful transmissions covers the following Archangels and related attunements.
Archangel Michael and Faith ~ Angels of Protection and Power
The importance of energetic protection
Space clearing and the removal of negative energy
Karmic clearing ~ traveling of timelines and the Akashic Records
Understanding pre-birth agreements
Cutting of old karmic cords, replacing with new energetic cords
Healing relationships that have wounded you
Connecting with others at a Soul level
Establishing clear boundaries and standing in your Power
Discovering the gifts of fear
Receiving of the Crystalline Shield of Light and Diamond Sword of Truth

Attunement to the Power and Grace of Mother/Father God as a warrior of Light
Archangel Raphael and Mary – Archangel of Healing and Truth
Purifying your mind and releasing limiting thoughts, beliefs and old programs
Experiencing the flow of universal life-force energy
Different breathing techniques
Activating of the axiatonal lines through the meridian lines found along the body
Sensing illness with medical intuition
Attunement: Healing with an open heart as a sacred transfiguring Flame of Divine Love
Archangel Gabriel and Hope – Herald and Messenger of God, Archangel of Resurrection, harmony and purity
The remembrance of your Divine Purpose and Destiny
Fulfilling your Highest Potential
Finding balance in all areas of your live
Accessing your creative gifts, wisdom and knowledge
Experiencing your Highest Potential through parallel realities
Meeting your future selves
Attunement to your sacred purpose as a custodian to Mother Earth and all her Life
Archangel Uriel and Aurora – Archangel of Ministration and Peace ~ Purple and Gold ~ Divine Justice
Transcending painful memories with compassion and peace
Recognizing the great blessings in our perceived disappointments
Releasing unforgiveness and resentment
Freeing yourself from relationships that are negative, stuck or harmful
Meeting every challenge with insight and understanding
Cultivating safety
Trusting and surrendering to the Divine
Attunement to Divine Justice and Peace
Archangel Jophiel and Christine – Archangel of Creative Power, Illumination and Wisdom
Experiencing your heart's dreaming
Magnetizing and manifesting all that you need in any given moment
Seeing with vision, clarity, illumination and gratitude
Creating more space for your creativity
Experience increased energy levels, freedom of thought and expression
Accessing your inner, innocent, magical child
Experiencing greater levels of intuition and guidance from the Divine
Freedom from addictions
Archangel Chamuel and Charity – Archangel of Adoration and Divine Love
Experiencing deeper levels of Self Love and Self appreciation
Working with your sub-personality aspects
Letting go and letting God
Recognizing the victim/persecutor patternings
Embracing and merging with your Divine Masculine and Divine Feminine Spirits
Appreciating and adoring yourselves and others
Archangel Zadkiel and Amethyst – Archangel of Ascension and Invocation
Experiencing Archangel Zadkiel's Violet Flame of Forgiveness
The Art of Prayer and Faith
The Power of Positive Affirmations
Activating the pituitary, pineal and hypothalamus glands
Experiencing increased levels of Cosmic Consciousness awareness
Opening your heart in gratitude and Love
Understanding synchronicities
Surrendering to the Perfection of Creation
Additionally, you will have received thirty beautiful Archangel Mini Cards, for your personal use. You can print these out, add them to your website, or social media platforms or add your own messages to each image.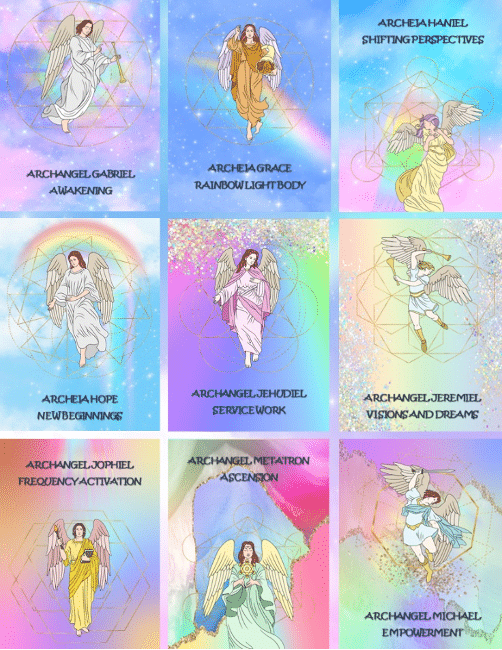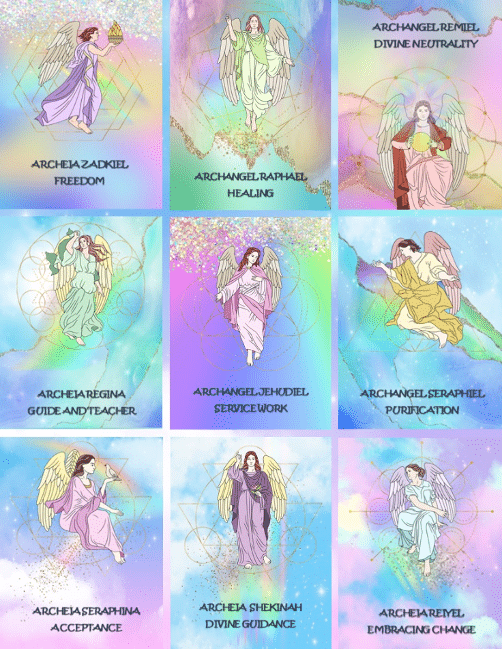 FILES ARE SENT ZIPPED. EACH MEDITATION ALSO COMES SEPARATELY.
RECEIVE OUR FREE GIFT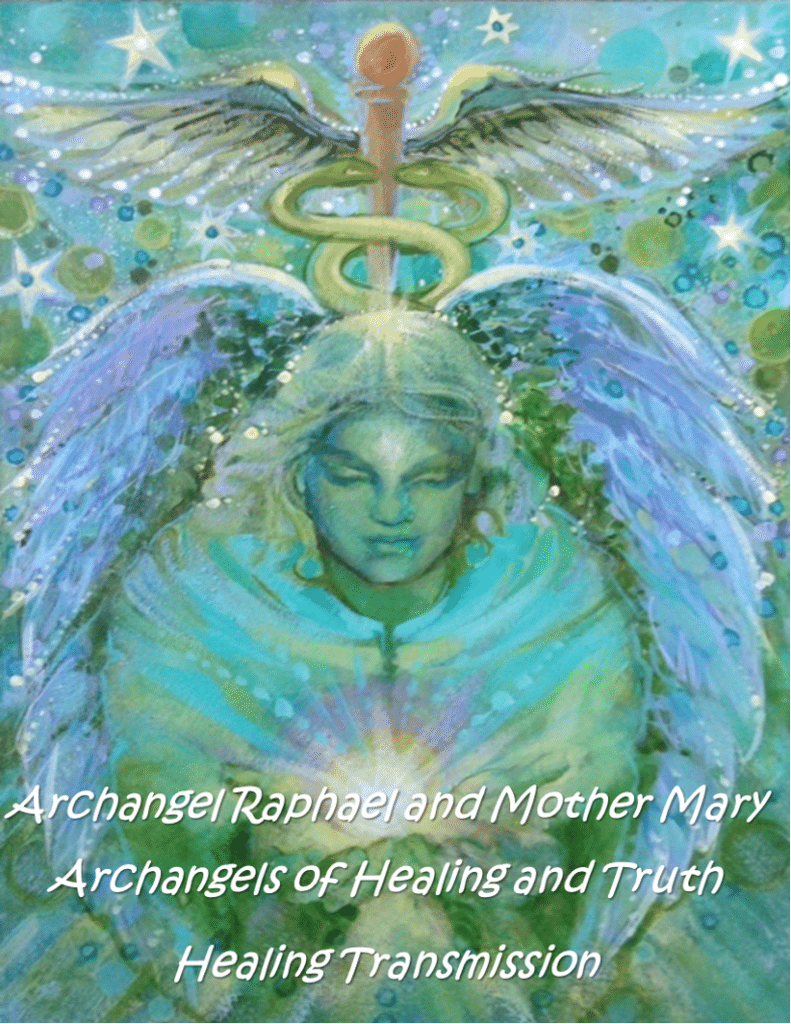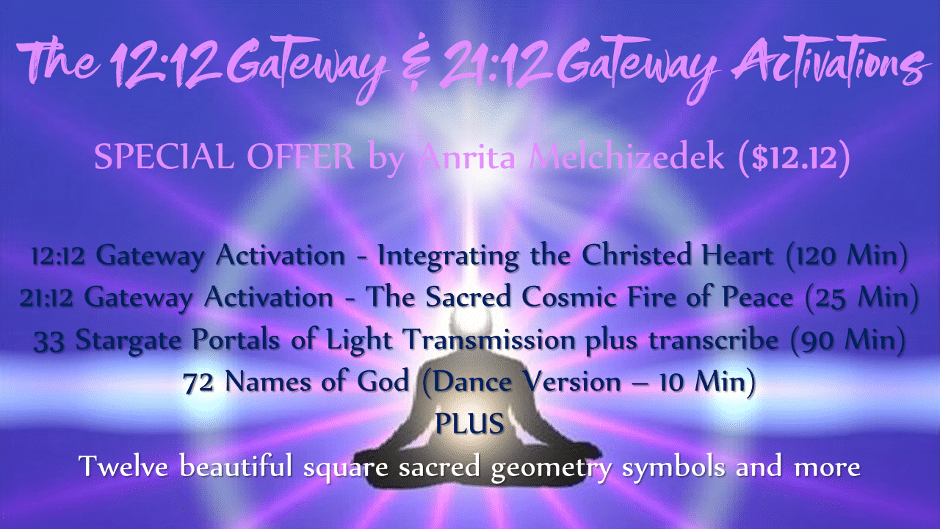 The 12:12 Gateway and 21:12 Gateway Activations
Your 12:12 Gateway and 21:12 Gateway Special Offer Package has some wonderful transmissions, along with transcribes, and 12 lovely sacred geometry images and bonus banners.
With the 12:12 Gateway, we are invited into the Ashram of the Cosmic Christ, the collective Christed Light of all Ascended Masters, existing within Shamballa. Embraced within the Golden Flame of Christ Consciousness, the 12 Golden Petals of the Christed Heart activate from Shamballa, into the 12 Pyramids of Creation and from here, enter our Golden Hearts. A powerful transmission with wonderful invocations and affirmations.
The 21:12 Gateway transmission, the Sacred Cosmic Fire of Peace, is a beautiful transmission in which you are offered an opportunity to experience the sacred Cosmic Fire of Peace through Helios and Vesta's Great Spiritual Sun Temple of Light. Within this Spiritual Sun Temple, you are assisted in releasing of old stresses, and three-dimensional templating's that have created areas of misalignment within your lives. Wrapped in these beautiful Copper-Gold and Pink-Gold Flames of God's Infinite Perfection, you deepen into peace, gratitude, and appreciation of All That I Am.
The 33 Stargate Portals of Light is a great understanding of Spiritual Laws energetically experienced, and the 72 names of God is offered with both the dance version, as well as the original version.
Some lovely images and banners for your personal use, on your website, for your mailings, Facebook events and so on.
Enjoy!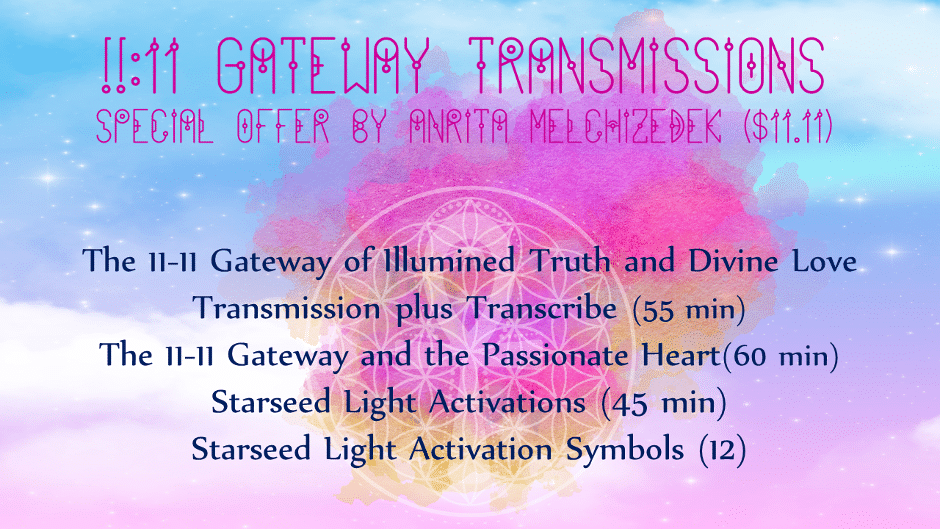 Receive these beautiful 11-11 Gateway transmissions by Anrita Melchizedek, plus 12 Starseed Light Activation Symbols
This Special Offer Package for the 11-11 Gateway includes three transmissions:
Transmission One
The 11-11 Gateway of Illumined Truth and Divine Love (55 min)
In this beautiful 11-11 Gateway transmission, to deepen into the frequency bands from the higher dimensional unified fields and octaves of Crystalline Consciousness and to experience our upgraded Diamond Solar-Plasma Light DNA, we are wrapped in the Diamond Flame of Purity and Innocence, and travel into the 12 major Crystalline Cities of Light, starting with the Sedona Crystalline City of Light.
With this transmission, you receive two Mp3 downloads, with and without background music plus the transcribe
Transmission Two
The 11:11 Gateway and the Passionate Heart (60 min)
In this beautiful transmission, you are offered the opportunity to activate and integrate a deeper level of the beautiful Christed Heart Petal of Passion, Heart's Dreaming and Joy, amplified through the 11:11 Gateway and the 11:22 Gateway of Light.
This transmission assists in experiencing a deeper sense of synchronicity and purpose, a deeper sense of inspiration and also, how you can birth your creations of Light in full abundance, in joy, in delight and passion upon this sacred Earth.
Transmission Three
Starseed Light Code Activations (45 min)
As we deepen into the New Earth Templates holding the Patterns of Perfection, we are invited to experience 12 beautiful Starseed Light Code Activations, Overlighted by the Galactic Councils.
The Starseed Light Codes Activations assist us in embodying our sacred multi-dimensional Blueprints as we enter into the next level of our Soul's Forward Evolution.
These Starseed Light codes are:
Awakening, Remembrance, New Earth, Merging Timelines, DNA Activation, Initiation, Transformation, ESP Gifts, Mission Codes, Light Body Activation, Divine Equilibrium and Unity Consciousness
Additionally, you receive 12 beautiful Starseed Light Code Templates (Letter Size/A4) to deepen the Light Code Activation's. You can print these out for your personal use. These Templates can further be used to charge your crystals, essences, essential oils, vitamins, food, water and so on.
TO PURCHASE THIS $11.11 SPECIAL OFFER CLICK HERE
Welcome beautiful heart,
Your 10:10 Gateway Special Offer Package has a wonderful Akashic Records Transmission and transcribe, plus the Akashic Records Workbook and Journal in PDF format, along with ten beautiful Akashic Records Access Symbols.
Your Akashic Records Workbook and Journal has an Invocation to Access the Akashic Records. In this invocation, you receive an Akashic Records Crystal which you place within your heart chakra. Within this Crystal are the Symbols to access the Akashic Records. You can then intuitively work with choosing one or more of your Symbols, and this is what you will work with now.
TO PURCHASE THIS $11.11 SPECIAL OFFER CLICK HERE
RECEIVE THIS BEAUTIFUL 10:10 Gateway Package
Accessing the Akashic Records Transmission and Transcribe (90 Min)
In this transmission, we enter into the Akashic Records to have a deeper understanding of the past lives/parallel realities affecting us most in this lifetime, as well as a deeper understanding of our Soul's purpose.
The Akashic Records are a dimension of Soul consciousness that contains multi-universal blueprints, records of all Life, of all forms and bands of consciousness. Within the Akashic Records, the imprinting of every thought, feeling and action are recorded through individual Life Prints as well as Life Prints of all future possibilities. Additionally, these feelings re-experienced in a Life Print review are not only our feelings, but the feelings and thoughts of every action we have had or will have that affects the lives of others. This Life Print review, done prior to incarnating, carries the Soul Purpose of each lifetime, as well as what is still affecting us through the karmic timelines.
Through the Akashic Records, we will access the past life/parallel reality affecting us most in this Now along the karmic timelines to understand our current perceived challenges as well as how we can shift this in this Now.
We then travel the Christed Timelines of our Highest Potential, viewed through the Akashic Records, holding the original Divine Blueprints of our Soul's purpose here on Earth. While our collective Soul's purpose is to experience Divine Love and One Unity Consciousness, and the coming together as One Unified Cosmic Heart, how this unfolds for each one of us individually can be understood through the knowing of ourselves as co-creators to the Company of Heaven.
We will end this transmission through the clearing of the original Divine Eight-Cell Blueprint. The Soul Blueprints for each Soul is contained as eight-cells within the perineum center and holds our Highest Potential, Soul purpose and karmic contracts agreed upon in each lifetime. Through our free will, we operate from two blueprints and by clearing the free will blueprints of our human miscreation's, false beliefs and judgments, we align we align more deeply into the Divine Blueprint and the Cosmic Heart of Mother/Father God, with a Knowing of our Soul purpose in this Now.
A beautiful 55 page Akashic Workbook and Journal (PDF FORMAT)
PLUS
Ten Beautiful Akashic Records Access Symbols
PLUS
PLUS A BEAUTIFUL 10:10 Gateway Invocation Mp3 download
Receive this Special Offer Package for $10:10